IN SEARCH OF A VILLAGE
The grandeur of the North-west Highlands of Scotland is breath-taking. Wrought by the elements over great periods of time, this part of Scotland is a geologist's dream, a source of inspiration for the native bard and an ever-beckoning invitation to the tramper and rock climber. Hills and mountains near and far and great rocky outcrops, straths and misty glens, peat swamps and mossy bogs, lochs and burns, make up this unique physical, and oft-times strangely spiritual environment.
Here each mountain stands in marked contrast to its neighbours, differing in shape and outline and colour. The hills are humped or gently sloping with low growing vegetation in hues of green and brown and yellow. With every corner turned, a fresh landscape presents itself, fascinating, awesome and beautiful; offering its solitude where time becomes irrelevant. People interacting with the environment in their struggle for survival; have altered the vegetation on the hills and moors developing niches here and there. However the basic features remain, as they have been for many thousands of years.
The recorded section of the McKenzie family history begins in one of the more fertile of these valleys a few miles north from the town of Ullapool in Ross-shire. Today Ullapool is the ferry port for boats travelling to the Hebrides and a stopping off point for tourists driving round the far north of Scotland in the long fine days of summer. Two hundred years ago, in 1788, it was founded by the British Fisheries Association to take advantage of the shoals of herring off the West Coast of Scotland.
The ancient route of those who came to settle or to plunder was by sea. Today Ullapool can be reached from Loch Alsh in the south by a road which runs through Glen Carron and Achnesheen to Garve and then beside Loch Broom before joining the main Inverness road. From Gairloch one travels via the coast road and then alongside Little Loch Broom before joining the main road at Braemore and the nearby Falls of Measach.
To reach the lands known to our McKenzie ancestors we must travel north out of Ullapool following the road as it runs gently uphill through Morefield, past the turn-off to Rhue and then down almost to the sea at Ardmair. Here it winds a little as it rises on the way to Coigach and Ben Mor. If we pause before crossing the River Kanaird and turn north-eastwards, and look at the top of the green slopes above the strath, but below the cutting made for the road, we see a cluster of double-storeyed white houses. If the eye then moves down to the river again it is easy to visualize the boundaries of the original crofts and of the lots of last century. This is Achindrean. Further away to the north is Ben Mor Coigach, the sentinel and backdrop.



Every shepherd who walked these hills, crook in hand and bracing wind in his face must have experienced a sense of oneness with their surroundings. So it would have been for the shepherds in our McKenzie family, Roderick and Donald, and possibly John. And in springtime, for us as for them, somewhere hidden from view, will be the cuckoo, sending his clear and haunting call throughout the valley.

Traditionally, Achindrean, or Ach'an Dreaghainn in the Gaelic, was the name of the area which ran from an old foxhunter's house near the bend in the river down to the bridge on the main road. The whole valley of the river Kanaird is known as Strathkanaird, the name now officially used for the village itself. The Kanaird River flows out to the loch of the same name, passing below the village of Blughasary, which in the 18th century was part of Achindrean farm.

At that time the forests in the area were oak and Scots pine along with silver birch and rowan. Now the oak and pine have vanished. The silver birch survives only in crevices and folds in the hills where conditions favour it. A few rowans are still growing in the village, some purposely nurtured. The rowan, or mountain ash, had mystic significance for people in the middle ages and in this part of the Highlands each house had its rowan tree growing close to the well to ward off witches. The broken trunk and branches of an old rowan still struggle for life on the croft where the McKenzies may have lived.

By the roadside, leading to Blughasary, and near the site of the old school, the main vegetation is low growing and cushion-like, particularly in the boggy areas. A close examination reveals a mat of miniature wild flowers, rushes, sedges and mosses. There is the common tormentil (Potentilla erecta) with its tiny buttercup-like yellow flowers, the heath milkwort (Polygala serpylliflia) with its deep blue flowers and a moss (Pogonatum urnigerum) with closed yellowish capsules.

<![if !vml]>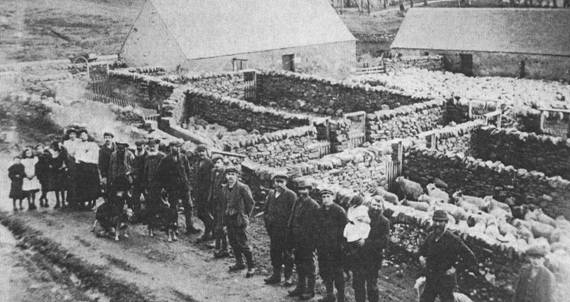 <![endif]>

Langwell near Strathkanaird, about 1912.

<![if !vml]>
<![endif]>

Around Ullapool Area Today
---